Sportlov
okej måste få in ett vanlig inlägg mellan alla justin inlägg, innan 00.00 då kommer alla justin grattis inlägg ;)
anna vill att jag ska ringa henne nu, handlar antagligen om Justin och Selena, haha ;) men måste dra, hörs ♥
haha jag och Elsa på Laura och Johannas tjejmiddag ♥
---
Svar - Jelena
okej jag publicerade videon på twitter och här, och fick svar här och på twitter. Jag hatar dom inte, jag älskar Justin men inte Selena, och jag måste lixom inte göra det. Jag tycker hon är okej. Dom är söta tillsammans och hon gör Justin glad. Så jag är glad för Justin. men grejen är att det kommer inte hålla, hon har varit tillsammans med andra kändisar och det höll inte länge, hon utnytjar folk och hon ändrar Justin. och om dom nekar deras förhållande nästa gång dom blir frågade, tar jag livet av mig igen. ;) 
men jag älskar justin och kommer alltid göra. :)
jo.. eftersom Justin är glad med henne. :) 
jag är avundsjuk men jag tänker lixom inte döda dom ;)
jag gillar justin och jag gillar selena, men inte dom 2 tsm.
'I DON'T LIKE SELENA. I DON'T LIKE JELENA. I SUPPORT JUSTIN BIEBER. NOT HIS LOVE LIFE. I'M HAPPY

TO SEE HIM HAPPY, BUT SHE'S USING JUSTIN FOR HIS FAME. YOU CANNOT CHANGE MY OPINION ON HER. I FELL IN LOVE WITH THAT 15YROLD I SAW IN 2009 SINGING 'ME PLUS YOU, IMMA TELL YOU ONE TIME". JUST BECAUSE I DONT SUPPORT JELENA DOESNT MAKE ME A FAKE FAN. YOU CANT MAKE SOMEONE LIKE SOMEONE. ITS NOT POSSIBLE. YOU WILL ALL SEE IT WHEN SELENA BREAKS UP WITH HIM.'
.
.
.
.


---
The fuck?
hahahhaha den svarta bilden tog dom i en 'fotoautomat' på festen.. ;O
---
Låt oss dampa ifred.
Jag är sjukt ledsed Justin, men jag och Sandra kommer inte kunna gratta dig i morgon. Om en halv timme står jag och Sandra på skurubron redo att hoppa. lalalalalalalaalalalaa RIP oss.
---
'Bieber&Gomez Ever Lasting Kiss'
O-M-B    O-M-B    O-M-B ... jag pallar inte dampa på bloggen nu men ser ni hur justin kollar in i kameran och sen efter gör Selena också det? Dom vill ju att alla ska se att dom är tsm utan att dom ska behöva säga någon..
dom är sjukt söta men seriöst AAAHHHHHHHHHHHHHHHHHHHHH, kan dom inte säga något och klart man blir avundsjuk lixom, omb jag tror jag dööör.
---
20.23
---
'Vanity Fair' Oscar Party: Top Trends
2011

'Vanity Fair' Oscar Party: Top Trends

.

SHOW STOPPERS:
A memo must have gone out! There was a 
TON of crimson at the Oscars
, and the scene was much the same at the Vanity Fair Oscar Party. 
Zoe Saldana
wore a
Prabal Gurung
fuchsia and red frock, 
Selena Gomez
slipped into a body-lengthening 
Dolce & Gabbana
gown, 
Anna Kendrick
wore a ruffled scarlet dress, and 
Anna Paquin
rocked a ballet-inspired 
Monique Lhuillier
dress.
.
THRILL OF THE LACE: Nothing says glamour like a little lace. Mia Wasikowska (in Stella McCartney), Zooey Deschanel (in Valentino), Ginnifer Goodwin (in Erdem), and Jena Malone (in a sleeveless, tummy-"showing" cocktail dress), chose to drive the point home in A LOT of the feminine fabric.
.
AU NATUREL: You'd think that wearing a dress that matches your skin tone would completely wash you out and make you look like a blob of, well, beige. But, it was quite the opposite forJessica Biel who wore a strappy Gwyneth Paltrow who wore the same Michael Kors gown she performed in at the Oscars, Taylor Swift who rocked a Zuhair Murad mini-dress, and Rosie Huntington-Whiteley who bared arms, shoulder, and back in a Valentino Haute Couture dress. These stars glowed!
.
SINGING THE BLUES: Our new fashion theory is that ANYONE can dazzle in a blue hue. Enter: Rosario Dawson in a high-slit Diane von Furstenberg dress, Lea Michele in a long-sleeve sparkling gown, and Dianna Agron in an ankle-length, flowing frock.
.
TAKE THE PLUNGE: One thing's for sure—a lot of double-sided tape was used last night to keep the deep necklines of Claire Danes' cream Calvin Klein dress, Emma Roberts' sparklingJenny Packham creation, and Gabrielle Union's stunning purple dress in place.
.
CHIC FRILLS: You have to be careful with ruffles, as there's a fine line between classy and trashy, but these ladies pull them off. Like Rashida Jones (in Valentino) Selita Ebanks (in red and beige one-shoulder dress), and Amanda Seyfried (in Valentino), and Cameron Diaz (in Carolina Herrera), looked uber-ladylike in their perfectly frilly frocks.
.
PRINTS CHARMING:We know that trends come in threes (at least). But we were so mesmerized by Emma Stone's short-sleeved Chanel Haute Couture dress and Lourdes Leon'sAllSaints Aztec mini-dress that we couldn't help but mentioning. You like, right?
-MTV
---
28/2-11
Har redan kollat klart på hela första säsongen av True Blood så har
börjat kolla på andra nu. Håller på att fixa mina naglar också. Justins
födelsedag i morgon förfaan :D men bloggar senare ikväll, puuss ♥
bildbrist
---
hahahahhahah allis..
---
haha
---
Dag 17 -
Dag 17 – Min favorit film.
Ingen aning.. :O
---
2011 Academy Awards: Top Trends



IN THE NUDE:
Mandy Moore
, 
Halle Berry
, and 
Florence Welch
looked naturally beautiful in nude-hued gowns. Mandy wore a shoulder-baring 
Marchesa
dress, while Halle also sported a magnificent Marchesa creation, and Florence gave the red carpet a vintage-y vibe in a tired
Valentino
frock.
Mandy Moore, Halle Berry, and Florence Welch on the red carpet at the 83rd Annual
Academy Awards on February 27, 2011 in Hollywood, California. Photo: Getty Images
.
Jennifer Lawrence, Sandra Bullock, and Jennifer Hudson on the red carpet at the 83rd Annual Academ
y
Awards on February 27, 2011 in Hollywood, California.
Photo: Getty Images
.
Mila Kunis, Natalie Portman, Cate Blanchett on the red carpet at the 83rd Annual Academy
Awards on February 27, 2011 in Hollywood, California. Photo: Getty Images

.
Mandy Moore, Amy Adams, and Michelle Williams on the red carpet at the 83rd Annual
Academy Awards on February 27, 2011 in Hollywood, California. Photo: Getty Images
.
Mila Kunis, Hailee Steinfeld, and Scarlett Johansson on the red carpet at the 83rd Annual
Academy Awards on February 27, 2011 in Hollywood, California. Photo: Getty Images

---
14.44
---
Måndag
Vaknade vid halv 2 .. så jävla skönt med lov. men iaf sitter och kollar
på Justin och Selena bilderna.. kan inte släppa det , omb omb omb omb
haha ;) men måste dra nu, pallar inte blogga, så hörs senare. ♥
---
Jelena
omb, okej det här visar att dom ät tsm.. vrf kan dom inte bara säga det? :O
---
JUSTIN FYLLER ÅR IMORGON
omb , justin fyller år imorgon :'D
---
Dagens låt - Justin
---
:O
Vi fick en kommentar av läsare som skickade en länk om en kille som hade skrivit detta. Allt detta hände i Lördags , 26 Februari. LÄSVÄRD!

Story: jag var på min lunchrast på jobbet och min jobbar kompis kommer in och säger till mig att Justin Bieber var här.
Jag trodde honom inte eftersom jag jobbar i Commerce som ligger 30 minuter från LA men resturangen/cafet ligger precis vid motorvägen så det kan vara möjligt.
Anyway jag går ut och ser att en tjej sitter i Justins knä medan dom väntade på sina drinkar.
Jag är fortfarande 50/50 säker att det var han, men då säger mina jobbar kompisar till mig att det är Selena Gomez.
Jag bokstavligen fick Starstruck för att jag älskar henne så mycket. Jag diskuterade med mina jobbar kompisar om jag skulle gå fram eller inte men mina arbetskamrater sade: "go go go go ... GO GO" så jag gjorde som dem sa och jag gick fram till Selena och Justins
bord och frågade Selena, 


Jag: Ursäkta, är du Selena Gomez? 


Vid denna punkt vänder hon sig till mig chockande och ler och säger ja!
Jag blir upphetsad också och frågar vad dem de gör här och de säger bara att de hänger/åker runt.
Så jag frågar henne om Om det inte skulle vara till besvär om jag kunde få ta en bild eller autograf och hon säger JA!
Jag springer bokstavligen till mitt bord där jag satt och hämtar min kamera telefon och ber en av servitriserarna att ta ett foto.
Vid denna punkt så kom deras drycker, och justin var redo och går och hämtar dem och han bokstavligen spottade ut sin varma dricka, som han skulle dricka. Den var bokstavligen varm som fan. Så allt rinner ut på golvet.
Selena börjar skratta och frågar varför han skulle dricka en så varm dryck.
Så medan han städar upp i röran, tog jag min bild med Selena och sedan Justin efteråt.
Jag tog inte ett foto med dem tillsammans.
Jag tror inte de vill göra det officiellt att de är ett par.
Så sen rengörde dem sin röra och gick.
Mina medarbetare skrattade så hårt att jag var så Starstruck när jag insåg att det var dem.
SELENA Var den sötaste personen någonsin!
Min kärlek till henne började efter detta eftersom hon var så trevlig och inte konstig ALLS!
Alla dessa rykten om att hon är falskt, är osanna.H
on var så söt.
Bästa Disney-stjärnan någonsin:) Så underbar.
<3 


Också Selena gav inte hennes riktiga namn när hon beställde.
Hon sa att hennes namn var Ashley.
Det var gulligt eftersom när Justin betalade med sitt kort sade han Justin Bieber 


Allt som allt träffade jag två av Hollywoods nya ansikten.
De var båda så fina och de såg ut som en sådant sött par. Dem sågs så glada ut att ingen var där efter , för att jaga dem.
De var ensamma och gick till fiket bredvid, där de jagades av fans.
Jag fick mina bilder dock!
Jag var så chockad att se Selena sitta i hans knä dock. Jag
kan säga att hon älskar honom!
---
- http://justindrewbieberswe.blogg.se/

---
23 dagar kvar
---
justindrewbieber
---
22.22
---
27/2-11
Kollade precis på big brother och kollar på true blood nu , så sjukt bra.
Men ska måla mina naglar också så jag bloggar senare, puuuss ♥
---
hahah omg
---
Svar
hhahahahhahaahahhahahhahahaahhahahahhahahahhahahah jaaaaaaaaaaa ;) Desamma  ♥
hahhahahahah ;)
veet, jag med :') ♥
hahaha lol. jaaaa :D ♥
jaaaaa .. sjukt .
nää :/ , Justins film kommer ut på bio i Sverige då :)
jaaaa fan :D
---
Jelena på 'dejt' igen ..
det var tydligen bara rykten att Selena och Justin hade 'gjort slut' ... dom var typ på dejt igen ;O
---
Söndag
Kom precis hem från mina kusiner, hade mysigt, åt för mycket godis
men ska kolla på true blood nu, puuss ♥
---
17.08
---
Dag 16 –
Dag 16 – En bild på det jag köpte senast.
---
24 dagar kvar
---
Dagens låt - Justin
Justin Bieber - Pray
---
JELENA
okej får panik. sitter hos mina kusiner så kan lixom inte gå in på alla justin sidor och blogga osv. men JELENA är trending på twitter och alla snackar om att dom gjort slut, hur fan vet man det, dom bekräftade ju fan inte äns att dom var tillsammans men iaf OMMMGGGG
---
♥
---
26/2
Fyfan, jag var skyldig Laura pengar och hon åker imorgon så jag skulle gå till henne och lämna pengarna och det var sjukt varmt och as jobbigt och när jag är typ 20 meter från hennes hus så ska jag ta upp pengarna men jag hade tydligen glömt dom hemma fyfan så nu 'r jag hemma igen. Men iaf ska strax dra till mina kusiner, puusss ♥
kolla inte på mig ;O
---
12.15
---
Lördag
Vaknade precis, ska gå ut och gå och sen ska jag duscha och åka till mina kusiner.
Bloggar imorgon kväll igen. Puuusss ♥
---
hahahahaha
---
Dagens låt - Justin
Justin Bieber - Never Let You Go
---
Dag 15 -
Dag 15 – En person jag vill byta liv med för en dag – och varför.
Selena Gomez antagligen så jag kan vara med Justin ;)
---
25 dagar kvar
---
MyBieberExperience 19
Okay so our Bieber experience didn't really start off the way we had planned. On Monday, January 31st we headed down to Toronto in hopes of getting in the audience of Much Music because they were giving away wristbands to get into the New Music Live show with Justin Bieber the next day! We got to Toronto at around 8 a.m that day, and waited for a little while in line. Finally at around 11 a.m we decided to go inside of Much Music to ask what was really happening today because no one had really confirmed anything. We waited in the lobby for a bit, then one of the representatives of Much Music came down and broke the news to us… they had absolutely no more tickets left for todays show. We were obviously super bummed out about this because that was our only chance to win tickets to see him on NML the next day. So Vanessa, being the persistent girl she is (hahaha), tweeted Much Music how unfair it was that they had told everyone to just come down and now we were unable to get into the audience, which also meant that there was no possible way to get wristbands for Justin Bieber the next day. We talked to several people at Much Music and all of them told us the exact same thing, "Sorry, we can't do anything about it". So as disappointed as we were, we headed to a movie and then back home. Then Vanessa received a Direct Message from Much Music. It said something along the lines of, "Because you are such a dedicated fan, we decided to give you a little present…" We immediately knew what it was and started freaking out. It was wristbands to the Justin Bieber interview the next day! Only problem was they were only giving us a pair of them, but there was 3 of us. So Vanessa explained the situation to them, and as nice as they were gave us 3 wristbands for the next day! (Thank-you SO much @muchmusic). We were SO excited. Also on our way home from Toronto, we had heard that Kiss 92.5 was giving away passes to Justin Bieber's "Never Say Never 3D" movie premiere. All you had to do was make a poster promoting the movie and you had a shot at winning the passes! So when we got home at around 9:30 p.m, we started working on our poster. We knew it HAD to be amazing if we wanted to win these passes. We worked literally ALL night trying to make our poster as amazing as we could. And the result turned out better then we had expected! So around 5 a.m that day we FINALLY went to sleep, and woke up the next day to find out that the Kiss 92.5 contest was at the exact same time as the New Music Live show. We were so upset because we had made this amazing poster that no one would be able to see now, and there was no other way of getting into Justin's movie premiere! We were still excited because we knew we were going to see Justin at Much Music. So the time finally came when the interview was about to start. We look over and OMB. Justin Bieber just walked through the door! The interview was so fun and cute. At one point his dad Jeremy even brought out his little sister Jazzy and he started to play with her. It was the most adorable thing we had seen in our entire lives! During the interview, we look behind us and we see Jon Chu, who is the director of Justin's movie. We went over and talked to him and gave him the shirt that we had made for him that said, "Teach Me How to Chu Chu" (An inside joke). He loved it and took a picture with Sam and Vanessa, which he later twit pic'd! After about 45 minutes the interview had finally ended, and unfortunately we were now heading home without any passes to Justin's movie premiere that night. As we were getting our coats and bags from coat check, Sam heard someone saying "Vanessa". We all look over and Scooter Braun was standing there. Vanessa said hey to him and they talked for a little bit. He finally asked her if she had any tickets to the premiere that night. Vanessa said no and Scooter, with a big smile on his face, said "Well do you want to go?" We all screamed! We grabbed our coats and Scooter told us to wait over by the door for further instructions. When we got to the AMC theatre, we got our tickets with the nice people we went from Universal Music and headed into the premiere! At this point we were still in disbelief that any of this was actually happening. It really didn't hit us until Justin Bieber himself walked into the movie theatre! We were living every girls dream all thanks to Scooter Braun! Justin was answering a whole bunch of questions and surrounded by a bunch of amazing people. We just decided to lay low and stay over by the entrance of the theatre by the stairs until we found out where we were sitting. While we were standing there, we look over and see DRAKE walking through the entrance! We all pretty much die at this point because we were now in the same theatre as Justin Bieber and Drake, our two favourite musicians. So finally, everyone took there seats and we were directed to ours. We sat in the "Reserved" sections for family and friends of Justin and his team. Justin and Drake finally took their seats as well, and can anyone guess where they were sitting?Around 10 seats down from us in the EXACT same row. We felt like the luckiest girls in the entire world! So we sat and watched the movie, and it was absolutely incredible! It was really an eye opener and showed how Justin is just a normal 16 year old boy who is living out his dream. We won't spoil the rest of the movie, because everyone should go and see for themselves how amazing it is! Good work Jon! Anyways, when the movie was finally over, Justin said thank you to everyone who was there and how grateful he was for their love and support. He was going to stay and answer some of the audience's question but couldn't because he had to catch a plane to New York and the weather was really bad so he couldn't miss it. But as he was leaving, he walked right over to our section and started talking to Mitch, Ryan & Nolan who were sitting right next to us during the movie. He then pointed at us and said, "Thanks so much for coming!" There is no words to express how grateful we are for what had happened to us on February 1st, 2011. It was one of the most amazing days ever, and we would never have been able to have had it without the help of Scooter Braun and Justin's team, who are honestly such incredible and kind people. We also want everyone to know how amazing the actual movie was itself too, and how everyone must go and #bring5friends to it!
- @samanthamorr, @melissakrumme,

@vanessaalove
---
Closer Look: Snooki's Feline Fetish
Nicole 'Snooki' Polizzi attends the grand opening of TEQA on February 24, 2011 in New York City.
Photo: Andy Kropa/Getty Images
---
25/2
Har kollat 4 timmar på true blood och fixat en sak.. men måste dra bloggar senare ikväll ♥
---
Gotcha
hahahhahahhahahahhahahahha :D
---
Fredag
Fredag idag, sportlov förfan :D chill dag hade ganska ont i huvudet hela dagen men iaf Johanna var as gullig och väntade på mig i en timme, hemma nu och har precis städat mitt rum, som var sjukt äckligt. Hörs senare ♥
---
Nelly.com
---
MyBieberExperience 18
It all stared when I had my birthday party on December 11th, 2010. I was making my wish and blowing out the candles, I was going to wish for the best birthday present ever. 
When I blew out those candles, my mom and my friend said "I know what you wished for.. to meet Justin Bieber!"
So on my birthday December 15th, the day of the show, I woke up so excited! I rushed downstairs to get on the computer.
I checked my emails and saw that I had won meet and greets from
bieberfever.com. I was crying and I told my mom right away that I won! She started crying as well, I said, "Yeshua (God) answered my wish". I was so happy! Before we went to the arena, my mom and I picked up my friend and told her the news. We went downstairs of the Coliseum to this private area with a bunch of other Bieber fans that won passes too. Infront of us was Justin's dancer Marvin. I got a picture with him! A couple minutes later I was almost inside of this tent that Justin was in.. I was so nervous. I walked in there and Justin turned around and had a smile on his face. He said hey to me. I was like OMG. I couldn't talk so I took a picture with him and my mom said "Where do I get the picture?" He said just get it on bieberfever.com. My mom said "I am so proud of you" and he had the biggest smile on his face! When I got done with the meet and greet, both my mom and I started crying! THIS WAS THE BEST BIRTHDAY EVER!!
-Cheyenne W.
---
26 dagar kvar
---
Dagens låt - Justin
---
Dag 14 -
Dag 14 – En bild på mig själv för ett år sen.
---
15.13
---
omg..
Hela inlägget är taget från http://lisaoffashion.devote.se

'Jag skulle jätte gärna vilja att ni läser detta:
Det här är egentligen inte vad min blogg är till för, jag skriver ju mest om min vardag, men jag skriver ju mycket om vad jag tycker om saker och ting.
Så ni, håll i hatten och akta så att ni inte sätter kaffet i halsen. För iochmed detta inlägg varnar jag känsliga läsare.
I söndags bad min syster mig att kolla på en film som hette Sharkwater. Jag har alltid gillat hajar, men jag tycker att det är så otroligt synd att de har fått ett rykte som inte alls stämmer.
Många tror att hajar är en av de farligaste djuren, men det är helt fel. Många tror att hajar älskar att äta människor, det är helt fel. Hajarna vet inte vad vi är för någonting, de har ingen aning, de är därför de kan tugga på en människa, för de är nyfikna, de låter lite konstigt men det är sanningen. Hajarna tycker att vi är äckliga, de är därför de nästan aldrig har skett att en haj äter upp oss hela, utan att de bara smakar på oss, därför är hajbett oftast väldigt ytliga. Vi har fått för oss att hajarna är ett monster, men de är ingen skillnad mellan en säl och hajar. Jag menar, folk hatar hajar, medans de tycker sälar är kramgoa och söta, men sälar är precis som hajar, då tycker jag att hajarna också borde få leva.'
DE DÖR FLER FOLK AV LÄSKAUTOMATER ÄN VAD DE GÖR AV HAJARNA.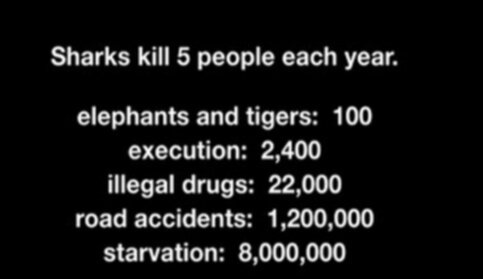 Men idag sker hajfensfiske, vilket innebär att båtar fiskar upp levande hajar, skär av alla fenorna på hajen, och slänger i hajen i havet igen. Hajen dör en långsam och plågsam död. Fiskar kan stå helt stilla utan att dö, och fortfarande andas. Men hajar har inte den typen av gälar, så de måste vara i rörelse hela tiden. Så då när de inte har några fenor kan de ju inte röra sig, de kan heller inte fånga någon mat.
Hajfenan går till medecin, eller soppa främst i Asien.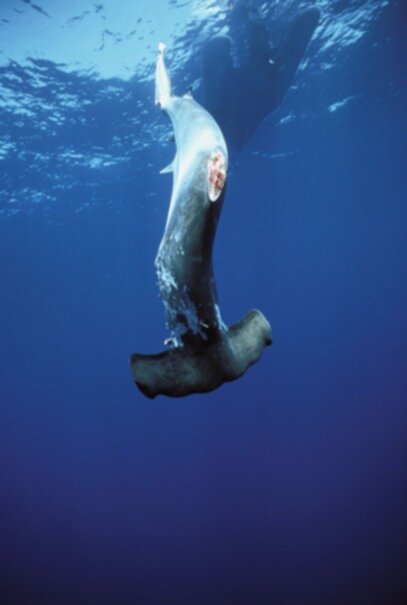 Denna hammerhaj, är levande, men döende. På denna bild ser man att de har skärt av alla dens fenor.
Medecin: Eftersom folk inte tror att hajar blir sjuka som andra djur, att de inte får cancer och inga sjukdomar så gör man hajfenorna till piller som folk äter. De tror att de som hajarna har kan komma till den sjuka om den äter sån här medecin, vadå? Lever vi 100 år tillbaka? Det är helt sjukt. Men grejen är att, hajar också får cancer och andra sjukdomar, men det är inte lika vanligt..
Hajfenssoppa: Detta är väldigt populärt i Asien och så. Man gör en soppa på hajfenan, men själva fenan smakar ingenting, utan man tillsätter buljong för att den ska smaka någonting, att man gör de på hajfenor är ju då helt onödigt.
Jag har skrivit upp mig på varenda intresse anmälan som finns. Ni tycker kanske att jag är oerhört töntig, men den filmen satte verkligen ett djupt spår i mig. Så klart jag inte tror att lilla jag kan stoppa hajfensfiske, men jag kanske kan ändra mina läsares åsikter om hajar. Och kanske till och med få dem att skriva på en intresseanmälan. Eller kanske kolla på denna film, vilket jag råder er till att göra! Så kom igen nu, tänk på hajarna! '
Under tiden du har läst detta blogginlägg har cirka 15000 hajar dött.
Kolla iallafall in detta!
http://savingsharks.com/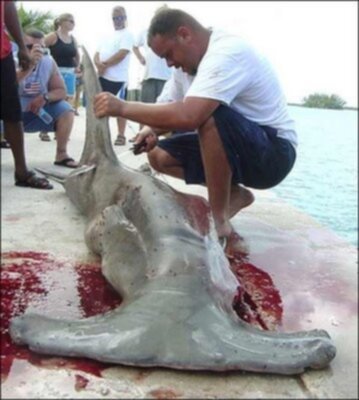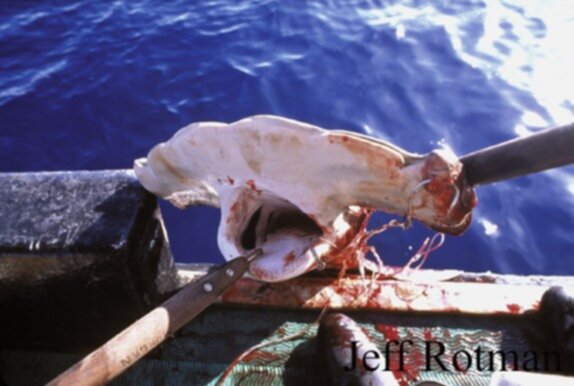 ¨
---
haha






"And the teacher was like : 'Go outside !' .. I mean going to the hall,
and i went outside and then i was like knocking on the window" :D
---
24/2
Har precis duschat och ska måla mina strax. Lyckades bryta en till nagel precis, bra jobbat ;) men ska
göra klart So läxan och sen kolla på True blood, hörs senare, puuusss ♥
---
27 dagar kvar
---
Fixa Stilen
---
19.13
---
$6,700.00
haha Justin lovade att ellen degeneres skulle få lite hår av honom när han klippte sig och nu har
hon fått det och man kan buda för att få en signerad glasgrej med lite av hans hår, hahahah och
det är redan uppe i $6,700.00 nu, ohmygossh ;)
---
R.I.P HairFlip
hahhahahahaaha RIP Hairflip hello sex hair ;) Video när Justin klipper sig..
hahahhahah "im closing my eyes for the rest of this shit" :) ♥
---
Smoothie
Dricker smoothie nu, ska duscha snart och sen kolla på true blood, hörs senare, puuusss ♥
---
First Look:
First Look: Lauren Conrad's New Paper Crown Line
---
15.51
---
Dagens låt - Justin
Baby - Justin Bieber
---
Torsdag
Fredag imorgon och sen lov, fan va skönt. Iaf idag hade vi slöjd och vi lekte vi på idrotten.. haha
och sen läste vi på svenskan och redovisade om våra religioner på Son, så ganska chill dag. ;)
---
Dag 13 -
Dag 13 – Mitt drömbröllop.
Jag har lixom inte tänkt på det alls... ingen aning ;)
---
MyBieberExperience 17
I have had many Bieber Experiences. We knew Justin was in NYC for a week and we had to find him somehow. Anyways, on Monday we went to try and find Justin at his hotel..nothing. We went to Time Square..nothing. But we didn't gave up. Wednesday, I was at my other friend's house when she called me and said, "COME TO THE DAVID LETTERMAN SHOW, JUSTIN'S HERE". I legit ran to my house crying. When I got home, my mom said I couldn't go cause that entire week I went out to go find him. I didn't care. I went straight to my front door and I ran to the show without money, starving, crying, dying. When I was half way there, my friend called me again "Justin left, but we are going to his hotel now, come". So I ran to his hotel. Again he wasn't there but I waited in the cold for like 4 hours. He didn't came down and there was actually like 10 girls there waiting for him. Then on February 2nd I decided to give it one last try. It was the premiere for "Never Say Never". I didn't have tickets, but I skipped school and went to the premiere with my sister and my 2 best friends. I was not in the front but also not in the back. At around 6:30pm, Scooter Braun (Justin's manager) was running through the line given away tickets. He came STRAIGHT to me and gave me a ticket. I actually cried my eyes out and ran inside. While I was going inside, I saw Ryan Good and we said hi to each other. Before the movie started, Scooter came and talked to us. While he was talking I screamed "HI" and he came to me and gave me his hand then he said "UH-OH, WAIT A MINUTE, WHY ARE YOU 2 SITTING IN THE SAME SEAT?" I was sitting with my other friend because her sit was like very far away. When Justin came, I was in the front row so I saw him perfectly. He even actually looked at me for like 3 seconds. Then the movie began, I cried the whole entire time, best movie EVER. Go watch it- *NEVER SAY NEVER* FEBRUARY 11TH. At the end of the movie, Justin said he was going to answer 5 questions so being as crazy as I am, raised my hand. He looked straight to me "YOU RIGHT THERE" I was like "ME?" He said "YES" I said " CAN I PLEASE TAKE A PICTURE WITH YOU"  He responded with "THAT HAS NOTHING TO DO WITH THE MOVIE" and then he laughed. After that I was like WOW. That was the best 2 minutes of my whole life. I actually didn't believe that it was happening. My last Bieber Experience was February 4th when Justin was going to a show on MTV called "The Seven", but you needed to go to 3 other shows that week so you can get in. I only went to one of them, but my 2 best friends went to the 3 of them, so they had guaranteed tickets to see Justin. I was devastaded but I didn't give up. The day before 'The Seven', my 2 best friends came to sleep at my house. We woke up at like 4:30am, went there and there was like 5 people there already. We stayed there in the cold. Around 12pm the security told me that I had to go to stand in the  BACK of the line because I didn't have tickets, but there might be a chance they let me inside. When the time came, they told us we needed to see him throught the window. I got SO mad because I had been there since 6am just to see him through a window… are you kidding me? I went inside the place and talked to the security they told me they couldn't do anything about it. I went upstairs and I talked to some people telling them that I was here since 6 am. Also they didn't care, so I was about to go down the stairs. Suddenly I saw KENNY HAMILTON coming out of the door with Justin behind him. I freaked out. It was only two other girls & my sister and I. I started crying and I told him how I was here since 6am. He came right straight to me and said "Awwww, lets take a picture" He hugged me and then blew us a kiss. The only problem is that the girl who took the picture disappeared. I have no picture, only a blurry one that my sister took. NEVER SAY NEVER.Chase your dreams. They DO come true!
-@bieberlovesnyc
---
RADERAT INLÄGG
---
23/2
Bröt precis min nagel, såååå jävla jobbigt, måste fila den nu och sen måla alla naglar.
Ska göra klart No hemprovet också och sen duscha.. så uppdaterar senare ikväll ♥
---
True Blood
sitter och kollar på true blood nu, alla säsong och episoder , älska ♥
---
Svar
Aw tack :)
Taaack :))
hahaahhahaha yeeeahahh :'D
haha ;)
shhhhhhhhhhhh ;O ♥
älskar dig mer ♥
Tack, btw din blogg är fin :)
hihihi ;)
älskade att kolla på dom :') ♥
fnuffiiee ;D
hahahhahahahahahaha men man fattar ;)
.
(missade några kommentarer men orkar inte fixa det nu ;))
---
Palermo's Fashion Week Layers
Uncovered: Olivia Palermo's Fashion Week Layers
Olivia Palermo at the Matthew Williamson and Mulberry Salon fashion shows in London on Feb. 20, at the Rachel Roy Mercedes-Benz Fashion Week show in New York on Feb. 15.
Photo: Getty Images/WireImage
The City alum Olivia Palermo has been piling on the layers, wearing everything (but the kitchen sink) to fashion shows from New York City to London...and we sort of love it! For the Matthew Williamson show on Feb. 20 in London, Olivia went cowgirl in a knitted turtleneck, furry cream coat,Topshop pleated maxi skirt and a fedora. That same day she sat front row at the Mulberry fashion show wearing a flippy miniskirt, scoop neck tee, tan blazer, caramel Mulberry leather jacket, gray lace-up heels, and an animal print Mulberry bag...whew! While in New York City a few days earlier, Olivia popped by the Rachel Roy fashion presentation just as covered up in a tailored coat, leather skirt, leopard print lace-ups, and a ton of fur. A TON.
+ Do you like Olivia Palermo's layered look? Or, is it just too much?
---
16.50
---
Längtar
---
Dagens låt - Justin
---
Dag 12 -
Dag 12 – En bild på ett ställe jag vart på.
Thailand
---
Onsdag
As seg dag idag, vi hade No, matte, spanska, So och bild.. men iaf åkte hem med Hedda och allis. haha jag & hedda snackade om selena och justin hela vägen.. men vi hörs senare, puuss ♥
---
MyBieberExperience 16
December 18th was the second best night of our lives. We decided to enter yet another contest to win Justin Bieber tickets and a chance to meet him. To enter you had to buy a toy and donate it to "stuff-a-bus". The four of us bought a toy each and our names got entered into the drawing where the winner would be announced at 7 on the radio. We waited and waited and listened to the radio for hours and the anticipation was growing every second of the day. And finally it was 6:50 and they were getting ready to announce the winner. 
They caught us off guard when they called out my name and then I got a phone call. Me and my friends almost passed out from the excitement
until we found out there was only two tickets and four of us. We were heartbroken but optimistic that it would work out. December 19th, the day of the concert the four of us showed up to St Pete Times Forum and waited around for the radio station to come. When Greg, the radio man, arrived we begged for two extra meet and greet passes and front row seats. Unfortunately there was nothing he could do. We decided to use an iPhone app to randomly pick which friend should meet Justin with me, the winner. We waited in line for what seemed like hours. 
Finally we approached the curtains and began to freak out! As we walked in there he was doing his cute hair flip. He said hey and we said hi back. We posed for the picture. We were supposed to be leaving but I couldn't let go of him!
Me and Justin held hands for a little as he was saying "next time….", finally my friend forced me to leave and we screamed. We met back up with the other girls. We had planned on two of us start off sitting front row while the other two sat at our normal seats at the very top and then switching off halfway through the concert. But they ended up putting tight wristbands around us so we wouldn't be able to switch seats with them. We were all upset. During the opening acts, the two of us on the floor asked a security guard if our friends could come down on the floor with us cause there was empty seats available. He said he will see after Sean Kingston's performance. We waited and asked him again after but he said we had to wait longer. We were all getting very impatient. Finally we asked again and he told us how to sneak them up in front row with us. We texted our friends to meet up with us at the top with us and they took our tickets and entered the floor seats with those while we used our wristbands. We kinda cheated but the security guard told us to! The four of us had the best time in the front row and we will never forget it! Haha like he says "Never say never"! 
The winner also got a signed guitar! Thank you Justin!
---
Outfit
---
16.30
---
28 dagar kvar
---
Spanska
Just nu..
---
ingen uppdatering
ingen uppdatering nu ikväll, skriver senare, puusss ♥
---
29 dagar kvar
TILL NEVER SAY NEVER 3D I SVERIGE :D
---
22/2
Ska seriöst plugga nu. so och spanska... måste duscha också men går fan inte in i badrummet efter
att jag såg den där fucking spindeln.. aaahhhh
---
Tisdag
Idag vaknade jag vid 6 och gick upp och fixade mig men fick sjukt ont i huvudet och mådde
illa så jag sov till klockan 11 och fixade mig igen och gick till skolan efter lunch. Efter drog
jag hem till Ida och hade mysigt :) ♥
---
Dagens låt - Justin
Justin Bieber - That Should Be Me
---
13.26
---
MyBieberExperience 15
This is my SECOND BIEBER EXPERIENCE! My first was about me going to Justin's concert, him telling me he loved me & I was also a finalist on 'My Date With Justin Bieber'…but that is NOTHING, compared to this! On Thursday January 27 2011, Much Music had a HUGE announcement that JUSTIN BIEBER WOULD BE COMING TO NEW MUSIC LIVE! Living 20 minutes away, OBVIOUSLY I was going to make sure I was there! I got some wristbands and was ecstatic! On Friday I got a call from Much Music. These people know who I am, and how CRAZY I am for the BIEBS, so they asked me to prepare 5 questions and told me that if they were good enough that I would be sitting on the couch with Justin Bieber and ask him one question during the show. A BELIEBERS DREAM, RIGHT? So I had 4 days to come up with the most AMAZING questions I could think of. The day came, I got all prettied up and I wore my JB nailpolish of course. I was wating in suspense in the Much Music studio and finally they told be that I was chosen to ask JB a question on the couch! I was so EXCITED. I got to talk to him and just chill. I thought I would be nervous, but I wasn't at all. It was so chill! It's something I can't explain, you just have to experience it for yourself! So I was sitting on the couch and Pheobe the NML host said there was a fan question. Liz another host, introduced me. First by pointing out my One Less Lonely Glitter nail polish. Haha, he said "It looks really good" As the conversation went on I said "Hi Justin" and he asked me how I was, he said he was always great…by the way! So my question was: "Three years ago, your definition of a celebrity was someone who gets to ride a zamboni.. AND HE INTERRUPTED ME..he was like "WHAT?" and I was like a "ZAMBONI" and he was like "Ohh yahh ahah a zamboni" in the cutest little way. Then I continued, what is your definition of a celebrity now?" And apparently, he doesn't see himself as much of a celebrity! (Watch the interview here: http://www.youtube.com/watch?v=BlClO0_qKWU @ 2:07 is where it gets good) Even though he's like the most famous teenager on the planet right now!  I got to ask him my question, and I also talked to him during the commercial break. I asked him for a picture, and he said he would take one but it didn't end up happening cause there wasn't much time. He is honestly so amazing! I really don't know how I didnt faint, haha! I just chilled with him on the couch and pretty much had the best seat in the house! It was the most amazing experience ever! Oh and did I mention he signed my wrist?!?! Well yeah, he did and I'm trying to convince my mom to let me get it tatted up! Haha! I'll let you know how it goes! Well thats my SECOND BIEBER EXPERIENCE but I'm sure I'll have a lot more to come.
-@sammpereira Click here to read my first MBE!
---
Dag 11 -
Dag 11 – Någonting jag oroar mig för.
Att jag inte kommer få träffa Justin ;)
---
Snyyyggg
♥
---
The sex
FUCK KARMA. IM NAMING JUSTINS NEW HAIR; THE SEX.
---
jävlatöntar
såååååå sur nu, 
#RIPFAKEBELIEBERS
. Justin klippte sig preics, alla lyckas trenda 
#riphairflip
och Justin har förlorat sjukt många followers. Och as många tjejer som typ älskade honom för 2 min sen dampar sönder och skriver att dom hatar honom och att han är as ful nu, chiiilllaa för fan det är bara hår, det växer ut igen. Det är normalt att klippa sig. Va fan är problemet. vill att han ska ha sitt gamla hår men KOM IGEN det växer ut igen, han har lixom inte snaggat sig, det är snyggt. nii dampar sönder min twitter med era jävla tweets. Såååå okej nu är jag klar ;) btw han sa "I just wanted a kind of a change, i had it for like 3 and a half years, it was always in my eyes, i just wanted to get rid of it."
.
'
damn, so many beliebers are on their periods right now. ITS HAIR. HE LOOKS SEXY OKAY?!
just suck it up and move on. jeez.'
'I'd still like Justin even if he was bald!
#justsaying
. Because no matter what haircut he has, his talent is still there and will always do♥'
---
JUSTIN HAR KLIPPT SIG
♥
---
NSN - The Remixes
jaaaaaaa, Never Say Never - The Remixes finns nu på spotify :)
---
NY MUSIKVIDEO SNART
yeah yeah yeah yeah yeah yeah yeah yeah yeah :D
CAN I GET A HELL YEAH? :'D
---
Haircut
Han måste ju förfan ha kvar sitt hår men iaf undra hur mycket han kommer klippa/fixa.. :O♥
---
21/2-11
Bilder från idag när Allis var på sin makeup rådgivning :)
Söta Allis ♥
---
Haha Allis blogg..
---
OOOGGOOSSSH
Hahaha jag seriöst sitter och skakar, jag gick in på toaletten för att hämta en grej
så jag typ sprang lite och då kommer jag in och lixom tvär stannar och ser en stor fet
äcklig svart spindel, en riktigt stor. Fyfan jag höll på att kissa på mig..
hahahhahahahahahahhahahahahahahhahahahahhahahah jag kan inte andas, var tvungen
att söka på hur man dödar spindlar utan att röra dom... hahahahhah
---
Plugg
Ska rita lite på min serie som ska vara klar på typ onsdag eller något och sen ska jag
läsa igenom min spanska text och sen kanske fixa SO läxan, seeeegggttt.
(kommer verkligen inte orka plugga låter bara ganska bra att skriva det)
---
20.25
---
Hahahahaha
---
Måndag
Idag hade vi engelska, so, musik, svenska och matte, jobbig dag men johanna var frisk iaf :)  Efter drog jag och allis till forum och allis hade makeup rådgivning fast dom sminkade typ bara henne, det blev as fint men när vi skulle hem fick jag damp på henne, hon kollade fel på bussgrejen så vi tog fel buss och två st 414 bussar åkte förbi och då fick vi gå av vid björknäs och sen gå till busshållplatsen mot oss, diiie. Haha men hörs senare♥
---
Dagens låt - Justin
Justin Bieber - Down To Earth
---
Vanity Fair - Justin Bieber
---
30 dagar kvar
---
Dag 10 -
Dag 10 – En bild på mig idag och vad jag hade på mig.
---
19.00
---
MyBieberExperience 14
I never thought that meeting Justin Bieber was even possible! After my two best friends met him back in November, I was totally discouraged that I would ever meet him. But on February 4th, 2011 I met Justin after waiting hours in the cold and being told I wasn't even getting in. It all started when I was checking out YouTube videos and I came across a kid my age from Canada and I thought to myself "He's pretty good!". Next  thing I knew, I was mouthing the lyrics to 'One Time' at Jingle Ball in MSG back in 2009. I suddenly was hooked. I was tweeting him every day hoping he would click that one button and follow me, but no luck. So my friend had done some hardcore Bieber stalking and found out that he was going to be in NYC for an entire week, so my friends and I figured we HAD to see Justin if he was going to be only 40 minutes away from us. It was then we decided to go to The Seven at MTV. Now, because of how big Justin had become, you had to go to three shows to have guaranteed tickets and only 80 would be getting in and well, of course, I couldn't go to any of the shows. But we decided we would still go and somehow get standby tickets. We took the train in and arrived to the destination at 12:15pm; there were only about 50 girls ahead of us so we thought to ourselves, "Alright we may have a shot at this!". In the beginning we saw Scooter while he headed into the studio and on his way back he gave us a smile! Then hours began to pass and I felt my toes getting frostbite so I decided to go into the nearby hotel to warm up. I suddenly lost track of time until my friend, who was saving our spot on line, sent us a million texts demanding we get back as quick as possible. We left the hotel and headed back out into the brutal wintery cold of NYC; as we approached our friend this security guard yelled at me and said "GET TO THE BACK OF THE LINE!" "But we've been here since 12!," I pleaded, but he didn't seem to care. As I went to the back of the line I started crying knowing that meeting Justin was never going to happen now. I then got a text from my friend telling for me to quickly come back in line because the security guard left. We then realized we had to hide in case he wanted to kick us ALL back again, so I put my hair up and put on my #purpleglasses hoping it would be a #swagg disguise. It finally was 3pm and they began to let in the people with tickets. We then found out that 20 girls had cut in front of my friends and when we were 10th in line, so things started to get heated. We then were moved into a section of people who were going to head into the studio, or so we thought. They then split the group again, separating my friends and I for the second time that day; I could not believe this was happening to me. I was devastated, until our groups met up at the barricades OUTSIDE the studio. The security guards tried to make us smile by saying "JUSTIN'S gonna wave to you!" I was so upset until my friend saw two girls talking to a security guard and she told me to listen in, and the next thing we knew, we were in the building being told the "NO WEAPONS allowed" -speech! I couldn't believe I was actually going to be in the same room as Justin for 30 MINUTES! We then checked in our bags and coats and were in line to be seated at The Seven. As they led us in, we sat down on the bench and we got our seats in the aisle, right where JUSTIN WAS GONNA WALK THROUGH; just the idea drove me nuts! After a couple of instructions and tons of anticipation, Justin was walking backstage ready to make 80 girl's hearts flutter. "And heres… JUSTIN!" IT WAS HIM HE WAS WALKING TOWARD ME AND I REACHED MY HAND OUT AS FAR AS POSSIBLE AND HE TOUCHED MY HAND, JUSTIN TOUCHED OUR HANDS!!!!!  I was flipping out, and my friends were screeching, we couldn't believe it! We then watched as Justin was only feet away from us and they then sent him over to do his thing on the drums! He was sooo cute, and made that face he always makes… you know the one. Next thing I knew, Justin's drumstick was in my hands. We then saw Ryan Good waiting to head up onto stage and we said hi and he said "You guys excited??" and we responded with, "YES!". YES, I HAD A LEGIT CONVERSATION WITH RYAN GOOD! And, of course, we got a high five! AW COMMON! The show was coming to an end and we were sad but excited from everything, and MTV decided to surprise Justin with Ryan and Chaz and I reached out for a hand touch but they didn't touch anyones hands. We then watched the reunion and on commercial were waving and Chaz shot us a wave and head nod! After the show was over, Justin passed us once again and we said "WE LOVE YOU SOO MUCH" and he replied, "I LOVE YOU GUYS!" after touching our hands once more and Kenny shot me a head nod and thumbs up for getting the drumstick! I was so freaked out because I never even thought this could happen to me and it did! You just gotta believe and NEVER SAY NEVER, don't ever give up!!
-@taylmustmeetjb
---
Somebody To Love Live Acoustic
Justin Bieber - Somebody To Love - 1Live Acoustic Set - May 20. 2010 - Cologne. Germany ♥
---
Kollar på ...
Linneas sminkvideo nu, älska :D ♥
---
23.38
---
RIP JASON MCCAN
---
YeahBaby
---
Världens Sötaste
så jävla söt ♥
---
sämst uppdatering
sjukt dålig uppdatering idag, men iaf kom hem från anna och fredrik för typ två timmar sen,
hade mysigt, sitter och kollar på linneas smink video.. hihi underhållande :) men hörs senare, puusss ♥
bild från idag, tagen av Elsa ♥
---
14.04
---
älskar dig
---
Söndag
Vaknade vid 12 och sen vid 1 gick jag ut och gick i 50 minuter ;) mötte Elsa också så vi gick tillsammans tills jag var tvungen att dra hem för jag måste duscha osv för om en timme ska vi åka till Fredrik och Anna.
uppdaterar senare, puusss ♥
---
MyBieberExperience 13



Okay so my story may not be as exciting as every other bieber experience but I still had the time of my life. I live in Australia and I heard that Justin Bieber would be coming here for a promotional tour but only to Sydney but I live in Brisbane which is about 500 miles away in a different state. I have to admit, I was pretty devistated when I heard that he was only going to one city so I tried to convince my parents to let me fly down for a day and night, but no.. no luck. The news got better when there was a competition where you had to listen to the radio every night for 2 weeks and ring up if you heard a mistake in the countdown. If you won, they would fly you to Sydney and you would play Xbox with Justin. I sat at my computer every night listening to the radio online, but unfortunately didn't win. I was really upset knowing that most of my friends were flying down to see him but I wasn't. Then one night on Twitter, @hot30countdown announced that they were having Bieber competition where they would fly you to Sydney, put you up in a 5 star hotel and we would have the chance to have a private concert with Justin Bieber! I pretty much jumped out of my seat. I was excited but I never win anything (well so I thought) so I didn't think much of it but decided to have a go. You had to make a video of  why you love Justin (only 15 secs max), so I remade the words to the chorus of Love Me and sung it, enetered it and kind of forgot about it after that. But that night I was sitting on the couch on Twitter and I got a phone call from hot30 telling me that I was a finalist and that they were having all the finalists on hold until they announce the winner. I really wasn't even excited cause I had no hope i was gonna win. But then I heard the radio in the background on my phone (I could hear them but they couldn't hear me) and they played all the entries and when mine played the host said "Aw she's my favourite" and then they said "Okay we're about to talk to the winner" and they started to get louder and all of a sudden the host was like "HELLO ABBY" My heart stopped and I didn't know what to do. I burst out crying on live radio haha and they said I was very talented, even though I wasn't singing properly, but I was just so excited. They got all my details and before I knew it I was off to Sydney. The day I arrived was the day his only concert which got cancelled because there was too many people and too much chaos. My good friend Johanna is part of @jbsource and texted me saying "Abby he's amazing, you're going to love him" That got me ridiculously excited. On the morning of meeting Justin we had to meet in our hotel lobby at 9am and we walked to the 2dayfm studio. We waited there and went into a conference room and got told we were waiting in there for Justin to arrive. Originally he was supposed to do an acoustic concert and then we got an hour of 'mingling' haha  where you could take as many photos and videos that you wanted etc and they were supposed to play our videos to Justin. We waited in the conference room for like 10 minutes then Ajay, the guy who worked at hot30 came in and was like "Hey guys, we got some good news and some bad news". He was like, Justin is sick so we don't know whats going to happen but a doctor is going to see him now, but the good news is that you get to go shopping for a few hours! (Would have been okay if I had money). SO then we got told we had to meet back at the hotel lobby at 12:30 to go to the new place. So we went back to the hotel and went to his hotel and got through the back (cause there were so many people waiting out the front). We were waiting in the lobby in this seated area that was put into a square, so we thought he was going to come and perform in the middle? Or spomething like that. Kenny Hamliton came in to talk to some people. 10 minutes later we got told that he was too sick to come down. So we had to get escorted upstairs by sercurity to his room. We had to go in the room in pairs of 2. We got told we couldn't take any photos or videos; but we would get 1 and only 1 professional photo. So people went in the room in 2's (but the first two girls who were like 20 and 22 got 7 things signed all in different pens which ruined it for us because they came out and said 'ONLY 1 THING SIGNED!') So we went in (My cousin and I) and he was standing there, and did the hair flick ;). And this is what happened: Justin: "Hey I'm Justin" *hugs* Abby: "Hey I'm Abby". *photo* Abby: "Are you really sick?" Justin: "Yeah I am just not feeling well at all". Abby: "Well I hope you get better". Justin: "Thanks so much". <-He said that while signing my cd. We got a free cd too. I didn't even get to say goodbye or anything cause it was so rushed. So pretty much I was really dissappointed even though I got to meet him.
So the thing that was supposed to go for an hour turned into 30 seconds. But it was still amazing and I'm still so grateful. This is the site where you can see my video www.hot30.com
-@abbyglasbyy
---
31 dagar kvar
---
Dag 9 -
Dag 9 – Bild på mig och min bästa vän.
Har många men lägger bara in en bild nu.. ♥
och sen elsa, linnea, ida, jenny, jens, anna, agnes&ebba, hedda,
hanna, sandra, fannie osv. ♥
---
Haha omb
hahahahhahahahhahahahaha kolla bilden ;)
---
Justin Bieber bär D&G
tillochmed hans skor.. gosh ;)
---
wtf
hahahahhahahah hoppas han driver... han ville att jag skulle 'signa' några grej på twitter så jag ba skicka dom och han skickar länken och en tjejs twitter och sen ba 'follow her please she's one of your bggest fans!! :D ' hahahah wtf
---
19/2-11
Var och köpte lite saker förut, hemma nu och imorgon ska vi till Anna och Fredrik och typ boka biljetter :)
Orkade inte gå ut och gå idag så måste göra det imorgon.. diee. men iaf hörs senare, puss ♥
---
asgarv ;)
I'm not trying too impress you but... my bedtime is 7.. but i go too bed 5 minutes late just cause im a rebel..
'One day.. facebook, youtube, myspace and friendster will come together as one. it will be called, fookyoumyfriend.'

'OK, im going to admit it. Its been bugging me for about 10 years now and I need to get it off my chest. I let the dogs out.'

-@lukastamutis
;)
---
hahahahhahahhaha
hahhahahhahaha alltid lika random allis ..
---
BIEBER ALERT
---
17.34
---
#BiebsToSwe
#BiebsToSwe #BiebsToSwe #BiebsToSwe #BiebsToSwe #BiebsToSwe
---
First Look:
First Look: Mariah Careys Skor och smycken för HSN
Mariah Carey on Oct. 20 in New York. Photo: WireImage

---
♥
ι'м α ғαɴ oғ α вoy wнo тαlĸѕ тo ѕwαɴѕ, rυɴѕ ιɴтo doorѕ,
нυмpѕ ғloorѕ, мαĸeѕ oυт wιтн тeddy вeαrѕ, & rαpѕ αвoυт мαllѕ
---
#BabyAnniversary
Idag är det 1 år sen... :') ♥
---
First Look:
First Look
:
Lauren
Conrads
vårkollektion för
Kohl
's
Looks from LC Lauren Conrad for Kohl's. Photo: Courtesy of Kohl's

---
Breakout Trends
The Fashion Week Diaries: Breakout Trends
'New York Fall 2011 Fashion Week has officially wrapped, but not without leaving some fierce trends in its wake. From beautiful braids to mix-and-match prints, these are the fall trends that got our attention. Confession: We're seriously contemplating jumping the gun and wearing these hot looks NOW. What? Is that a problem?'
Models walk the runway at Marc Jacobs on Feb. 14, Rachel Roy on Feb. 15, and Rodarte
on Feb. 15 during Mercedes-Benz Fashion Week in New York City. Photo: Getty Images

Models walk the runway at Anna Sui on Feb. 16, Rebecca Taylor on Feb. 11, and Betsey
Johnson on Feb. 14 during Mercedes-Benz Fashion Week in New York City. Photo: Getty Images

Models walk the runway at Christian Siriano on February 10, BCBG Max Azria on Feb. 10,
and Tommy Hilfiger on Feb. 13 during Mercedes-Benz Fashion Week in New York City.
Photo: WireImage/Getty Images

Models walk the runway at Tory Burch on Feb. 13, Anna Sui on Feb. 16, and Marc By Marc
Jacobs on Feb. 15 during Mercedes-Benz Fashion Week in New York City. Photo: Getty Images
Braids on models at Mara Hoffman on Feb. 10, Erin Fetherston on Feb. 12, and Charlotte
Ronson on Feb. 12 during Mercedes-Benz Fashion Week in New York City. Photo: Getty Images

---
Lördag
vaknade precis, ska gå upp och kolla på tv och sen gå ut och gå och duscha.
men pallar inte blogga nu, hörs senare, puuusss ♥
---
11.41
---
Dag 8 –
Dag 8 – En dålig vana jag önskar att jag inte hade.
ingen aning.. :O
---
MyBieberExperience 12
My Bieber Story. I know it happened quite a while ago but I want people to realize how amazing not just Justin is, but how amazing his manager Scooter Braun also is & how many he helps Justin connect with fans. On Sunday the 17th of January 2010 Justin Bieber was in London for the 3rd time. My friend and I were printing out a book to give him about his fans that are ill and that don't have a long time to meet him. I looked at Justin's Twitter and he tweeted how he was going to be at Buckingham palace. I live in London so my friend and I had 5 seconds to decide whether we wanted to go or not. We didn't think we'd have enough time to get there before he left, but we did. We ran there as fast as we could. JUST as we got there I saw a boy across the road, he was with a guy (Dan Kanter, I didn't know who he was then) & the guy had a guitar. The boy then flicked his hair, I realized it was Justin. My heart literally stopped, I then turned to my friend and said, 'Oh my gosh, that's Justin Bieber' She denied it and said, 'No it's not'. I told her to go look. She ran across the road, went behind him then turned round to me and shouted, "THAT IS JUSTIN BIEBER". After that Justin was a bit further away from us so we went a bit closer, then he turned around and looked at us. You could tell we were Bieber fans cause the girl next to us had a banner with pictures of him. It was just us 3. My friend and I froze up. You could tell he was busy because he had a camera crew with him. He was about to get in a car but he STOPPED for us. We got so scared, stopped and refused to go up to him. He was waving at us shouting, "Come over" and doing the 'come over' sign with his hands but we were too scared. After a few minutes, one of his crew members told him to just leave cause we were not coming over. He got in his car and drove off. We SHOULD have gone up to him. After that we knew he was going to go to the Science Museum for the performance. I didn't win tickets, but me & my friend went and waited outside. For 8 hours, we waited round the back of the museum not knowing if we were going to see him for a tiny bit, but we still didn't give up.  We were BEGGING the security to get Justin to come out for at least 5 seconds. They were refusing to do anything. Then, after all that waiting, a man came outside. That man was…. Scooter Braun. He came outside about 5 minutes before Justin was about to preform and said, "I could hear you chanting from inside. I want to make a deal with you guys". I was praying that he was going to let us in. He then said, "Some people that won tickets haven't arrived and there's still space on the stairs and other places. Justin asked if we could try and fit you guys inside. If you guys can line up in a straight line and PROMISE not to go mad or cause a big fuss, we're gonna try get you all in". I was SO excited. About 15-25 people were in that line is well. He let loads of people in. They made us stand there for ages and we didn't know if we were the only ones not going to be allowed in since we were in the back. Then the security said, "You guys can go in". I screamed. I was so happy that Scooter and Justin went out of their time and let everyone outside go in. We were running to the performance area when Scooter was coming towards me. I was by myself because my friend already went. I stopped, knowing that Justin was going to start preforming in about 1 minute and said to Scooter, "Thank you so much for doing this, you have no idea. You're amazing". Then he said to me "It's honestly no problem, you should run on, he's about to preform". I ran into the room and was on the 2nd step. SO close to Justin. Then he sang some of his songs. It was AMAZING. After that day I've always wanted to thank Scooter again for everything he's ever done! I know this isn't the best story Bieber experience story that some people have heard but I think people need to read it to realize that Scooter is mainly the one that makes sure Justin connects with his fans. Yes this was about a year ago & some things have changed but if you meet Justin..don't just thank him, thank Scooter. Scooter Braun is honestly one of the most amazing guys that I've ever heard of. All these things he does for Justin's fans, just don't forget it.
-Charlotte. (@FightTilForever)
---
hahahaha
---
32 dagar kvar
---
2011: Red Carpet Trends
2011 Screen Actors Guid Awards: Red Carpet Trends:
.

Lea Michele, Claire Danes, and Jennifer Lawrence at the 2011 SAG Awards on Jan. 30.
Photo: Getty Images/PictureGroup
Sofia Vergara, Rosario Dawson, and Jayma Mays at the 2011 SAG Awards on Jan. 30.
Photo: Getty Images/PictureGroup

Hailee Steinfeld, Sarah Hyland, and Mila Kunis at the 2011 SAG Awards on Jan. 30.
Photo: Getty Images/PictureGroup

Natalie Portman, Christina Hendricks, and Dianna Agron at the 2011 SAG Awards on Jan. 30.
Photo: Getty Images

---
Get The Look: Snooki's Nails
---
NSN i Paris
Never Say never premiere in paris♥

---
18/2-11
Sitter och chattar med Jenny och Elsa och inne på twitter och snackar med Dijana och selma.. men hörs senare ♥
Haha nyår 2010/2011
---
Andra CSI avsnittet ute nu
OMB OMB OMB ANDRA CSI AVSNITTET JUSTIN ÄR MED I ÄR UTE PÅ INTERNETT NU EFTER
SOM DEN REDAN VISATS I USA.. så sitter och kollar på det nu, goooshhh älskar det :'D ♥
---
Fredag
Johanna är fortfarande inte frisk, hoppas du kommer nästa vecka ♥ men iaf iskolan var det ganska chill, vi 'fikade' haha, hade No , So och elevens val.. Efter åkte jag med Hanna och Laura till Forum, hahahahaha vi hade så roligt så ;) vi fikade först och sen gick vi runt lite och sen gick vi och köpte cola och pomfritt och satt vid taco bar och hade roligt.. BTW Hanna, vet att du inte ser de här för du har inte din dator men ha det as bra i Thailand nu :D ♥
---
Hahahahaha wtf
---
The Fashion Week Diaries:
---
19.38.03
---
Dag 7 –
Dag 7 – Vad jag skulle göra om jag fick 1 miljon.
Shoppa, resa, spara, försöka träffa Justin osv. ;)
---
MyBieberExperience 11
My name is Clara and I'm from a little town in 
Argentina
, South America. I live so far away from North America, that it was almost impossible that I could meet Justin Bieber! It all started when one morning,
I woke up and my mum said to me, "SURPRISE! I bought you a ticket for BIEBER'S CONCERT IN HOUSTON, TEXAS!"
I was completely in SHOCK! The tickets were without meet & greet, but I was still so happy! We travelled from ARGENTINA to TEXAS! 14 hours by plane and finally the day was there. It was Saturday November 6th 2010. In the morning I was having breakfast when I saw that Justin tweeted that he was in Houston! I was totally EXCITED Bieber was in the same city that I was in, so I decided to go find him! A policeman told me that I will NEVER meet Justin without meet & greet passes, but I could meet his dancers in the car park near the Toyota Center. I went there and some girls were as well. Two of the girls were speaking Spanish, so I asked them where they were from. They said MEXICO! I just started talking with Darinka and Karen, it was as if we had known eachother for years! Then Legacy, Robert Caplin, Justin´s teacher, Michael Vargas and other dancers started coming and we were talking to them all the morning. They are FREAKING COOL! In the afternoon, I thought that I had no chance of meeting Justin.
I was really tired and sad walking onto Houston street, when suddenly I saw a big man. When he turned, I shouted, "OMG, KENNY HAMILTON and SCOOTER BRAUN! Wow I can't believe this!"
They were with a little girl that was sick in a wheelchair, she looked at our bracelets and said to us, 
"Where did you buy them? They are so awesome" My friend Darinka gave her bracelet to that girl. Scooter looked at us and said, "You girls will meet JUSTIN BIEBER. In 45 minutes go to the principal Entrance!"
We were so excited that us 3 Latin girls were going to meet him together! The time passed, we were very excited and we went to the place where Justin was.
HE IS SO PERFECT IN PERSON. 
When we went up to him, he said "HOLA!" and he asked me "Can I hug you?" it was the best HUG of my life!
Then we enjoyed the amazing concert!
This experience was a REAL DREAM that I will never forget. A girl from Mendoza-Argentina was meeting JUSTIN BIEBER. I also met amazing Mexican friends because of Justin. I really learned not to give up, to follow my dreams, and NEVER SAY NEVER.
-Clara Patti (@gojustinn)
---
33 dagar kvar
---
Lista
Nämn något som gjorde dig glad igår: Laura
Vad gjorde du kl 08 i morse? Slöjd..
Vad gjorde du för 15 min sedan? Kollade på jersey shore
Det sista du sa högt? 'Haha'
Det senaste någon sa till dig: 'haha'
Vad har du druckit idag? vatten
Vad var det senaste du åt? choklad
Vad var det senaste du köpte? godis
Vad är det för färg på din ytterdörr? Vit..
Vad är det för väder hos dig nu? äckligt
Godaste glassmaken? choklad..
Tror du på kärlek vid första ögonkastet? nja
Sover du tungt? ööh typ ;O
Drömmer du mardrömmar? jaaaa
Trivs du med ditt jobb? Jobbar inte 
Favoritklädsel? mjukisdress
Favoritlåt just nu? born to be somebody - justin bieber
Vad ser du om du tittar till höger? min mobil :)
Vad gör dig glad just nu? Hanna
Vad ska du göra härnäst? publicera de här..
Höger el vänsterhänt? Höger
Humör just nu? Sådär..
Sommarplaner? Grekland
Hur många kuddar sover du med? 2
Morgon eller nattmänniska? natt
Är du kittlig? Ibland
Äckligaste insekten? SPINDEL *ryser*
Stökigt el välstädat? stökigt
Vad längtar du mest efter just nu? Sommar

---
Jersey Shore
hahahah sitter och kollar på jersey shore nu, älskar det :') ♥
---
20.50
I was born in the wrong country. I need to move away from here 
#ForReal
Nyår 2010/2011
---
99.9%
I THINK ABOUT JUSTIN BIEBER 99.9% OF MY LIFE
---
SWAG
---
Hahahah
---
Brit Awards' Quick Change Artist
---
Who Wore Erdem Best?
---
17/2-11
Har ganska ont i huvudet men har precis gjort So läxan iaf och väntar på att Hanna ska logga in på twitter.. ♥
---
18.55
---
Hannis1234
efter skolan drog jag hem till Hanna, saknat henne :) men iaf vi åt och snackade .. datorn och justin och allt ... hahahhahahahahah SHOT SHOT SHOT... ;'D Hon åker till Thailand i 2 veckor på söndag, OMG :D ♥
kommer visa senare vad vi skrev..
---
Torsdag
Idag drog Elsa hem efter lunch för hon inte var frisk, hoppas du kommer imorgon. och på idrotten skulle jag och Laura gå till björknäs och hämta typ en stämpel från en affär och sen tillbax för att visa läraren att vi var där. Haha det var ganska kul men jävligt kallt. Ska duscha och måla naglarna nu, puuusss ♥
---
MyBieberExperience 10
My Bieber Experience was on December 9th, 2010 aka possibly the best day of my life. It started out with me going to school like normal, but I got to be dismissed early because we wanted to be super early for the concert, and to pick up our tickets in the chance of meeting Justin or one of his crew members. Once I put on the Justin Bieber shirt I made and such it was time to hit the road. The concert was 2 hours away but it was 3:00 when we left so we knew we were gonna get there in time. When we (me and my mom) were parking the car in the parking garage, we got a phone call, from the guy who sold us our tickets. He said that his transaction with our tickets didn't go through and he had two ticket options, one in section 108 (our seats were originally section 109 row d) or floor seats, row mm. My mom didn't remember what floor the floor seats were on, but I said yes to them anyway. We had to go meet the ticket guy to get the tickets at a gas station (so sketchy i know). Then we got the tickets and got in line, me being super smart and wearing converse in 30 degree weather almost got frostbite in my toes that night. When the doors opened and we got our tickets, it was the moment of truth, what floor section were we in? As soon as the guy printed out our tickets I litterally ripped them out of his hand and saw they were floor 3 seats! Right then I flipped. We went down to the floor and I was counting down to our seats, I saw them and HOLY SHIT. THEY WERE SEVENTH ROW SEATS. Right then I cried, like really cried. After I wiped away my tears I was heading up to go buy my tshirt before the show started and who do I litterally RUN into? DAN KANTER, my eyes were red, of course. But he apologized for running into me (he was eating vanilla dip 'n' dots) and I asked if he would take a picture with me, he said yes and smiled, but then my camera ran out of battery. Being the nice guy that he is, he said if I hurried he would wait for me, so I went and changed the batteries and we took a picture. In the picture I look terrified and my eyes are red but hey. I met Dan freaking Kanter! That night was so amazing and I will remember it forever.
-Laura (@lalalauraluxo)
---
18.18
New York 2010
---
34 dagar kvar
34 dagar kvar till NEVER SAY NEVER 3D :D
---
Dag 6 –
Dag 6 – Typ av killar jag faller för.
Justin Bieber typen ;O
---
Haha ..
---
16/2-11
Bild från Idag hos Allis..♥
---
Sommras
gosh, kolla mitt hår från i somras , tagen från Allis blogg :)
---
NSN - London
---
Haha yeahbaby♥
---
Never Say Never Premiere - London
Kollar på Europa Never Say Never 3D premiären i London live på datorn :D
---
o-m-b
Efter en intervju..
---
Rolling Stone photoshoot♥
---
17.31
---
MyBieberExperience 9
It started out on Thanksgiving dinner, when I just brought up a random topic of me and my mom going to Miami to see Justin in concert. Now, I was just joking, but apparently my aunt took it seriously and got me tickets and MEET AND GREETS! I was FREAKING out!! So I went on the plane, got to Miami, and my friends picked us up from the airport. The next day was the concert. I couldnt wait! Then, my friends told me they had VIP passes and had an extra! I was going CRAZY! We got there super early, and went to the soundcheck. It was amazing! Beforehand, we had gotten Justin Sour Patch Kids, but highly doubted that he would get them. Then we hear Ryan say, "Who has snacks?!?" and we go "We do!!!!" We gave them to him, and he started eating them. Then Justin came out. It was exhilarating. It was so unreal! So we just stood there and he took the Sour Patch and started throwing them at us and told us if we caught it in our mouth, we could go up and give him a hug! No one caught it unfortunately, but still. Justin Bieber was eating the Sour Patch WE gave him. Then, Adam took us to the meet and greet. I brought him a bracelet that said "BADASS" on it. When we went up to meet him, I gave him the bracelet and he goes "I'm a BADASS." and I'm like "YEAH YOU ARE." and he laughed. Then my friend told him we were the ones who gave him the Sour Patch, and he said we were so sweet. We took the picture, and then I walked out, in total shock. 'Was that even real..?' It was the best moment EVER. Then, when I thought it couldn't get any better, we went to get our seats, and we were led to the FOURTH row!! We hopped over the seats and got to the front row, and it was AMAZING!! Justin and I made a lot of eye contact and it was just the best night of my life! Kenny and Scooter were RIGHT infront of us. I talked to Kenny for a little and told him to follow our twitter. Then, Scooter signed the book that Justin also signed. It was absolutely the best night of my life and i owe it all to Justin. Thank you so much!
Love, Sophie K (@believinbieber)
---
Costa Rica 2009
Parachute, Costa Rica, 2009
---
Saknar,
Costa Rica 2009
---
17.17 - make a wish
---
@Allis blogg
hiihihihi det var jag som skrev ;)
---
Dag 5 –
Dag 5 – Någonting jag vill ha mer än nåt annat just nu.
sommarlov  ♥
---
Onsdag
Johanna och Elsa är fortfarande sjuka, krya på er. men jag och Laura hade iaf matte, So, No, bild och spanska.. seeegt. Och btw Hanna har varit sjuk också och skulle på utvecklingssamtal så såg henne snabbt, saknar dig ♥ Sitter iaf hemma hos Allis nu, haha vi har så jävla dålig humor.. :') hörs senare, puuusss ♥
---
#verysexy
---
.
---
35 dagar kvar
---
16.21
---
#CONGRATSJUSTIN
Justin Bieber won international breakthrough artist at 
#TheBrits
! Congrats @
justinbieber
:)
See? Fuck the grammys. The brits know what they talkin about!!
#proudofjustin
SCREW THE GRAMMYS 
#BRITFORBIEBS
#BRITSRULE
!!!!!!!!!!!!!!
JAJAJJAJAJJAJAJAJJAJAJAJAJJAJAJAJAJJAJ :D
---
#thebrits #britawards
Sitter och kollar på BRIT AWARD på datorn, justin är ju dääääär :D ♥ Hoppas han vinner :') 
#Britforbieber
---
Haha
seriöst allis, sluta med dom där .. hahahhaahha jag kan inte andas :'D
---
21.21 - make a wish
äääällskar Victoria's secret Beauty Rush lip gloss ♥
---
Älskar dig Jenny
saknar dig, men vafan vi träffas väl om några veckor? älskar dig. ♥
Jennys blogg:
---
Svar
HHAHAHAHAH JA :D
men jaaaaa :)
okeej visst :)
hahahah jaag veet, så jävla underbar
ohyeas ;D
aw, saknar diiiiig ♥
haha yeahbaby ;D
kan inte sluta skratta :D ♥
själv skulle jag låta honom ligga i sängen och inte under men det är upp till dig. haha fin dröm .. ♥
sure :)
hahaahhaah va du? jag kommer lixom inte ihåg ;D haha omg
hihi :D
jaaaaa sååå gullig. haha veennee :D btw as länge sen vi träffades ♥
jag vet jag d.ö.r  seriöst jag kunde inte andas.. haha inte jag heller ;) ♥
känns som jag har svarat på den här kommentaren redan..
saknar dig mest ♥
haha så jävla kul och den dampa på din dator.. HAHA
---
15/2-11
Blogg.se lackar så jag kan inte publicera utan att trycka på spara&publicera 200 gånger...
men chattar med ellen och ska läsa igenom NOn strax, hörs senare ♥
b i l d b r i s t
---
Älska
Justin Bieber Never Say Never♥
---
20.40
---
VärldensSnyggaste...
.
(jaa.. haha jag garvar lite åt den första bilden .. men han är sååååå snygg )
---
gosh..
kolla Justins face när hon nämner Selena .. smiiiillleeee :O ;D 2.49 - 3.36
och btw han är så jävla rolig i slutet :D ♥
---
36 dagar kvar
---
Fyyyfaan
btw idag mellan 11 och 1 var jag och axel typ städare i matsalen... omg sååå jävla äckligt. Vi tog upp stolar och torkade bord. jag höll på att spy när jag skulle ta smöret, uueewww. vi skulle torka efter hela skolan.. och alla små barn kaxade och ingen torkade och jag fick seriöst
daaaaammmppp
.. hahah 1 kille i 6an hörde att jag dampa.. ;O
---
Tisdag
Idag hade vi engelska, matte, svenska, idrott osv. seeeeegt som fan men efter drog jag och
Ida hem till Laura, kom precis hem, men måste dra, puussss♥
---
Hahahahahahahahah
hhahahahhahahahhahahhahahahahhahahahhahahahahahahhahahhaahahhaha  fan va rolig ..
---
10.50
---
Dag 4 –
Dag 4 – Mina mål/drömmar/önskningar.
Träffa Justin Bieber.. ♥
---
GlamCam 360 - Justin Bieber
---
Ohgash
btw ni vet bilden när Selena sitter i Justins knä? Det var innan L.A prämierän av Never say never..
I Selenas familjs hus, dom är så tillsammans.
---
Justin Och Selena
Justin och Selena kramas efter Justins grammy uppträdande ..
jaaaaa jag erkänner dom är jätte söta och hon gör Justin glad och allt.. men fuck jag är
avundsjuk och dom borde fan säga att dom är tsm nu .. ♥
---
800 followers
yeah baby, 800 followers på twitter nu. :)
---
Born to be somebody:
DEAR GAGA: I DON'T CARE IF YOU WERE BORN THIS WAY, JUSTIN BIEBER WAS BORN TO BE SOMEBODY.
.
Lady Gaga's nya låt : Born This Way
.
Justin Bieber's nya låt: Born To be Somebody.
Jag tycker Justins är sjukt mycket bättre.. ;) Vad tycker ni?
---
NSN remixes
NSN remixes ute nu, happpppyyyy faccceeee :D älskar dom ♥ ...
gulligt att dom släpptes på alla hjärtans dag också ;)
Up feat. Chris Brown:

.
.
.
Overboard feat. Miley Cyrus (live) :
---
Grammys 2011
---
16.40
---
Be My Valentine
---
Alla ♥ dag
Glad alla hjärtans dag.. btw jag älskar JustinDrewBieber ♥
---
14 Februari
---
Måndag
Skolan var ganska seg som vanligt. So, matte, engelska, musik osv. Skulle vara med Allis nu men måste plugga, ska ha muntlig redovisning på engelskan imorgon och man ska ha tagit ut nyckel ord och kunna berätta om en död artist, herre.. gooosshh.. måste plugga så hör senare , puusss ♥
---
MyBieberExperience 8
My Bieber Experience all started on December 18 2010. I had previously gotten news that I won the contest on Power 96 to play Xbox with Justin Bieber and front row seats to his concert. I was the happiest girl in the world. That morning I got a call saying that the playing Xbox with Justin Bieber wasn't scheduled for the Miami concert; it was scheduled for the Tampa one the next day. I was so mad so they decided to help me out. They told Kenny and Justin about this problem and they felt bad so I got soundcheck tickets and the photo meet and greet tickets along with the front row seats and if i wanted to, I could drive to Tampa in the morning and play Xbox with him there. I agreed to all of it. We got to soundcheck and he said he was going to ask us the questions instead of vise versa and if you got it right, he would throw a swedish fish at you and if you caught it in your mouth, you can go on stage!When I answered the question, he gave my 5 tries and even told me to move up closer to him. I didn't end up catching it in my mouth but at least her talked to me. Next we went to the photo meet & greet and it went by so fast. We walked up to him, he said hey whats up, took a picture and left.  We then proceeded to the concert and it was soo much fun. During "Down to earth", he looked right at me and I couldn't breath! I got home and started packing for Tampa. I was so excited, I couldn't even breath. I woke up super early the next day and started driving to Tampa. I was so nervous that I didn't eat the whole day. We met up with the guy from Power 96 and he took us backstage. He put us in a room that just had a couple of chairs and a tv with an Xbox. We waited there for 5 minutes and then I heard a boy say "Are they in here?" I died because I knew it was him. Justin came in the room and said hey. He walked up to me and shook my hand and asked me for my name. He looked so cute! I couldn't stop starring at him. Then he started talking about his concert and if i was excited for tonight and I said that I went to the concert last night in Miami. We started talking about the concert which lead into his favorite songs which were 'Down to earth' and 'Pray'. He asked me for mine and then somehow the conversation lead to talking about Canada. I said how when it was the first Miami concert, I was in Canada visiting family so I couldn't go. He then said "Don't worry, you were in a better place." He also said he wanted to have his kids in Canada and then he started talking about everything Canadian. We had a conversation for at least 15 minutes and it was the best conversation I ever had. After we took pictures together and he signed all my stuff and then we started playing Xbox. We played the kinect adventures and it was so much fun. We then left the room to go to soundcheck and I sat in the audience and of course he went on stage. That was the last time I ever saw justin. It was the best weekend of my life. I will never forget my Bieber experience.
---
Dag 3 -
Dag 3 – Min favorit årstid och varför.
Sommar så klart.. Det är varmt, man har lov, man blir brun osv . ;D
---
37 dagar kvar
---
#ProudOfJustin
Justin vann inte något ... men iaf här är uppträdandet med Justin, Usher och Jaden, sjukt bra :)
#proudofjustin
.
.
29 SONGS, 3 ALBUMS, 1 MOVIE, 1 BOOK, 1 TOUR, 27 MILLION+ FANS, 16 YEARS OLD. IT'S CLEAR WHO THE REAL WINNER IS TONIGHT, AND HE DOESN'T NEED AN AWARD TO PROVE THAT. WE'RE ALL SO PROUD OF YOU JUSTIN BIEBER.
.

.

.
---
Hahhahaha
HAHHAHAHAHAHAH kan inte andas, Allis har gjort det för typ 3 gången, hahah omg :'D
---
21.49
---
#GrammyForBieber
Omb omb omb Grammys inatt..  :D :D :D 
#GrammyForBieber
---
13/2-11
Omg, så jävla jobbig dag. Ruth och Johan var här.. fyfan va dom var spidade , dom sprung runt och skrek och Ruth sminkade sig med mitt smink och Johan åt mina tuggummin och dom ritade i mina tidningar och typ hackade min mobil och jag fick damp och typ skrek och jag höll på att dö men sen gjorde Johan typ latte/o'boy till mig så det var chill hahah. Har varit ute och gått också, ska duscha strax, uppdaterar senare ♥
---
Söndag
Vaknade typ vid halv 12 idag. Ska gå ut och gå och sen duscha osv.
Och sen måste jag plugga engelska. men måste dra nu, hörs senare ♥
---
GAGA I VOGUE US
Lady Gaga är med i Vogue US marsnummer. Hon har på sig en rosa peruk och plagg av
Alexander McQueen, Louis Vuitton och Haider Ackermann.
---
Dag 2-
Dag 2 – En person jag vill träffa just nu.
---
MyBieberExperience 7
I've had many experiences from going to Miami for the Superbowl pre-show to My World concerts. My favourite was in the summer at the Much Music Video Awards. My friends and I waited in line for wristbands to see our boy Jbiebs.
The day of the MMVA's while waiting in line, we left our stop and quickly went to get some food. We heard some people talking about what hotel Justin was staying at so we decided to check it out. There were only a few girls waiting outside his hotel, 
then we saw his face pop out of the door with Ryan, Chaz and Mitch. He was in a rush told us he would be back later.
While they were all in the back of their escalade, Mitch rolled down his window and asked me if I was japanese. I was like no..? Lol random.
Justin was making kissy faces thru the car window too, it was so cute!
We decided to ditch the MMVA line, wait for Justin and then book it back to the MMVA's since the line closed at 6 or 7. Finally like 2 hours later Justin came back. Some girls were asking him who hes rooting for in the World Cup and if he was French or German. 
As we were taking our picture, I told him I was half German haha, he looked over at me and said "Wow really" and smiled.
We also got a picture with his dad and backup singers who were really nice and sang us a song.
Woooo! We also saw Justin leave for the awards show, and Drake came to pick him up. It was almost time for the MMVA's to start so my friends and I booked it to there, we still made it in time and actually got really good seats. Mitch, Ryan and Chaz were literally right behind us too the whole show haha….awkward.
I
t was a successful day meeting Justin, attending the MMVA's and watching Justin win a few awards!
---
00.11.08
---
38 dagar kvar
38 dagar kvar till #nsn3d  :D
---
00.00
---
23.50
Söndag om tio minuter och då är det skola imorgon, fattar ni? ;O Inne på twitter och fixar min bok som jag och allis håller på med, yyeeaahh. och btw älskar mitt nya lypsyl jag har, underbart haha ♥ men hörs senare , puusss
---
OJBD
hahha jag lider av OJBD (Obsessive Justin Bieber Disorder)
---
white boy from canada
världens finaste vita kille från Kanada ;)
---
Längtar
Omb längtar till andra avsnittet av CSI som Justin är med i :D
---
MyBieberExperience 6
Well, it all started on my 13th birthday! My aunt got me VIP tickets, I was so excited. At that time, I had no idea I was going to meet him. My local radio station had a food drive contest and whoever won, got meet and greet passes, but unfortunately I came in 2nd place so I was really upset but happy for the girl that won. I would have dreams at night of meeting him and I always wished at 11:11 that one day I would meet him when it came time for the concert. While my sister and I were in line to get into soundcheck, we were talking to these two girls in front of us. We had a blast! 
On our way out, these girls told my sister and I that they had extra meet and greet passes for there friends, but there friends weren't coming so they gave them to us. I found out I was going to meet Justin Bieber only 5 minutes before I did!
I just gave them the biggest hug ever and started thanking them. I really didn't know what to say, so we walked in and I gave him a hug and we took the picture. As we were leaving, it slipped out of my mouth. I told Justin that he was adorable and he said thanks. As soon as I walked out of there, I called my mom and she was shopping.
I said, "Mom your not gonna believe this, but I just hugged Justin Bieber!" My mom freaked out and started telling evreybody in the middle of the store that I met Justin Bieber.
Anyways after that we went to the concert, we had 3rd row floor seats, it was amazing. I keep having to remind myself that I met Justin Bieber on 12/15/10 in Greensboro, North Carolina I thank God each and evrey day that I was in the right place at the right time. In the picture, I am the one in the front wearing the Justin bieber shirt and the girls beside him are the ones who gave us the passes. The girl in the strips is my sister.
- Kristen (ShawtyMane8)
---
12/2
Gick precis ut med Dimos .. sjukt kallt ute men iaf borde plugga nu omg
herreeguuudd 17.17 nu ÖNSKA FÖR I HELVETE :'D
---
BadAss
---
11 May 09
haha aww Justin twittrade dedär 2009 .. :')
---
24miljoner
---
15.50
---
Justin & Selena..
Selena i Justins knä -.-
---
Lördag
Vaknade vid halv 1 och hade migrän typ så jag åt alvedon och gick ut och gick sen
köpte jag godis vid hemköp.. det var as billigt .. men måste dra, puusss ♥
Monaco 2010
---
02.02
Make a wish.. ;)
Monaco 2010
---
Dag 1 –
Dag 1 – En bild på mig + 10 fakta om mig.
2. Jag har lätt för att hata personer
3. Jag dansade balett när jag var as liten
4. När jag red ramlade jag av och fick hjärnskakning & minnesförlust
5. Jag sätter på 4 alarm på min mobil när jag ska upp
6. Jag är ganska beroende av lypsyl
7. Jag hatar att göra det här
8. Jag blir glad när jag har mentions på twitter & händelser på facebook .. ;)
9. Jag älskar att skriva #Leggo & #Epic på twitter
10. det första jag gör när jag vaknar är att kolla om jag har fått sms
(btw Jag älskar Justin Bieber )
---
Då kör vi igen
Dag 1 – En bild på mig + 10 fakta om mig.
Dag 2 – En person jag vill träffa just nu.
Dag 3 – Min favorit årstid och varför.
Dag 4 – Mina mål/drömmar/önskningar.
Dag 5 – Någonting jag vill ha mer än nåt annat just nu.
Dag 6 – Typ av killar jag faller för.
Dag 7 – Vad jag skulle göra om jag fick 1 miljon.
Dag 8 – En dålig vana jag önskar att jag inte hade.
Dag 9 – Bild på mig och min bästa vän.
Dag 10 – En bild på mig idag och vad jag hade på mig.
Dag 11 – Någonting jag oroar mig för.
Dag 12 – En bild på ett ställe jag vart på.
Dag 13 – Mitt drömbröllop.
Dag 14 – En bild på mig själv för ett år sen.
Dag 15 – En person jag vill byta liv med för en dag – och varför.
Dag 16 – En bild på det jag köpte senast.
Dag 17 – Min favorit film.
Dag 18 – En bild på mig själv som är tagen utav någon annan.
Dag 19 – Min reaktion när jag ser mig själv i spegeln.
Dag 20 – Mitt favoritprogram – och varför.
Dag 21 – Min favorithögtid.
---
Kate Moss's Spring Bag Collection
See Kate Moss's Bohemian Spring 2011 Longchamp Bag Collection
.
.
---
01.23
---
BieberNoveller
Ohmybieber.. jag har läst 520 'episoder' av olika bieber stories... alla är inte äns klara.. omb.
Och dom är lixom jävligt långa också.. men jag älskar dom ♥
---
39 dagar kvar
#39DAYS kvar.. OH MY BIEBER :D
---
Borneo
gaash, nu snackar Bergman & Davrin om att vi ska till typ Borneo över jul & nyår sen..
fattar inte var det ligger men det verkar ganska nice. Men längtar mest till Grekland i
sommar med Anna , Fredrik, Jens, Jenny och alla :'D
---
12/2-11
Hemma nu, vi åkte typ till någon restaurang i stan och där kom det massa folk och sen kom
Tony som vi skulle överaska. Vi åt, snacka osv. Men pallar inte blogga, hörs ♥
---
Ily
I love you
---
17.03.03
---
LittleCBeadles
Heeellgg nu, så jävla skönt. Men ska på middag snart, så får träffa Anna :) btw Christian Beadles följer Hanna på twitter, så jävla cool, OMB OMB .. men måste fixa mig nu ..
---
Fredag
snöstorm imorse. shit. jag mötte Laura och vi började gå mot skolan, helt sjukt. As jobbigt och kallt. Det tog 30 min att gå två basstationen och sen stannar en bil och backar och ja ba
'OMG BILEN STANNAR OMG!'
Och det var Daniels pappa så vi fick skjuts, taaaack :') Det var typ ingen i skolan.. ingen. Bara typ våran klass.. men det var ganska mysigt och sen slutade vi tidigare så det var chill. Efter drog jag till Johanna med Laura och vi kollade på OC :D hahah jag älskar Laura och Johanna.. men ska fixa mig nu, vi ska på middag, puusss ♥
---
40 dagar kvar
OMB 40 DAGAR KVAR TILL NEVER SAY NEVER 3D I SVERIGE :D
---
Fyafan
omg så jävla mycket snö.. alla bussar i stockholm är typ inställda så jag måste gå till
skolan med Laura.. omg :O alla kmr ju fan vara hemma och ingen lärare kom ju fan
komma till skolan. men iaf nu måste jag dra och möta Laura -.- ♥
---
Haha omb
hahah Justin var ju hos Ellen innan LA premiären av Never say never ... :D
-Taget från Onetime
---
10/2-11
Borde läsa massa NO men gör det sen.. och jag måste verkligen måla
om mina naglar, gammalt rosa nagellack och typ lite svart färg som inte
gick bort från slöjden idag.. euw. Iaf hörs senare, puuussss ♥
---
Glee - "Baby" (Preview)
---
17.49
---
41 dagar kvar
#41DAYS #NEVERSAYNEVER3D :')
---
Utvecklingssamtal
Idag var det som vanligt i skolan. Jag och Laura hade ganska kul på rasten, misstolka inte -.-
Efter skolan drog jag hem till Laura med Johanna 1 timme och sen åkte jag tillbaka till skolan
och hade utvecklingssamtal.. hehe dom såg inte att jag messade med Hanna.. ;) ♥
---
Snyggast
---
LARA STONE FÖR VOGUE PARIS
---
E K - SAMARBETET MED H&M

.
ELIN KLING OM SAMARBETET MED H&M
'Elin Kling har fått designa en kollektion för H&M, vilket är ännu ett bevis på hur bloggarna numera influerar modet och vad vi har på oss. Kollektionen som består av nio plagg och två accessoarer beskrivs som modern, ljus och minimalistisk med bohemiska influenser, något som Elin själv säger speglar hennes personliga stil.
Jag ringde upp Elin tidigare idag för att fråga lite närmare om hennes inspiration, hennes favoritplagg, varför kollektionen bara ska säljas i Sverige, och vad hon gör om fem år.
Anna Kopito: Du fick ditt första mail från H&M för ett år sedan. Vad var din första tanke?
Elin Kling: Jag kunde inte ens tro att det var sant. Vi tog en lunch dagen därpå, men då märkte jag hur förberedda de var. Det fanns en plan, de hade läst på bra om mig och visste vad för slags plagg det skulle kunna bli - alltså ett typiskt Elin Kling-plagg. Det var svårt att hålla det hemligt. Jag berättade det inte för någon förutom för min pojkvän.
AK: Hur har det gått till?
EK: Jag fick göra en moodboard och hålla presentationer. Först var det nervöst innan jag fick respons, men sedan sa de att det var över förväntan. Jag gick igenom hundratals tidningar och modeböcker hemma och bläddrade genom tidning efter tidning. Jag tog bilder på allt, färger, möbler, konst och plagg. 300 bilder blev till 100, och sedan 50, tills jag såg en röd tråd som faktiskt påminde om mig och min stil.
AK: Vem har du designat för?
EK: Jag designade vad jag själv ville ha på mig. Egentligen var det tänkt att kollektionen skulle lanseras hösten 2010.
AK: Vilket är ditt favoritplagg?
EK: Jag ville designa något som var mer tillgängligt för många olika kroppstyper och åldrar. Det var det den draperade klänningen i greige fick stå för. Men nu när jag själv har provat den hemma har jag insett hur suverän den är. Den funkar lika bra på gala, dop eller en vanlig sommardag om man klär ner den lite. Och självklart skinnjackan med den grova kedjan och de avklippta kanterna.
AK: Vad kommer du att kombinera med kollektionen?
EK: Jag har designat kollektionen så att man ska kunna matcha plaggen med varandra. Men de vita shortsen passar bra med en mer dressad kavaj för få en mer minimalistisk stil. De vita, vida kostymbyxorna passar bra med en överdel som har mer volym. Just nu är jag inne på mycket blått, vilket jag kommer ha på mig i vår och även under hösten.
AK: Kollektionen har även fått mycket uppmärksamhet utomlands. Hur kommer det sig att den bara lanseras i Sverige?
EK: H&M visste nog inte att den även skulle få uppmärksamhet internationellt, men annars hade de säkert gjort lanseringen större. Det spelar egentligen ingen roll för mig. Jag är bara glad att jag fått ta del av det här över huvud taget. Det är det som är det viktigaste för mig, att jag har fått prova på det här.
AK: Skulle du kunna tänka dig att göra om det här?
EK: Det kommer jag definitivt att göra. Alla säger någon gång att de vill designa en klänning. Nu fick jag känna på hur det är, vad det innebär och insåg att det är hårt och krävande arbete. Men jag längtar redan till nästa gång.
AK: Det verkar som att du har flera roliga projekt på gång, men vad tror du att du själv gör om 5 år?
EK: Det jag gör nu, bloggen och den nya tidningen, är det roligaste jag vet. Just nu kan jag inte önska mig mer, utan hoppas bara att allt fortsätter rulla på. Jag kan inte tänka mig något roligare. Och så länge jag får vara runt härliga personer så är det bra. '
Kollektionen lanseras den 3 februari och kommer att säljas i följande butiker: Stockholm: Hamngatan 22, Drottninggatan 56, Sergelgatan 1, Götgatan 36, Kista Galleria. Göteborg: Nordstan, Kompassen. Malmö: Gustav Adolfs torg 2, Södra förstadsgatan 20. Uppsala: Svartbäcksgatan 4.
- Minoutfit
---
Outfit
---
TILL JUSTIN & HANNA :
---
Svar
hahahahhahahah jaaaaaag veeeet :D jag älskar honom ♥
hahhaa omb jaaa. jag dooog, jag skakade haha :D
hahaha va stolt, jag med :') saknar dig btw ♥
Hahhahaahahhaha jaaaaa visst gör det! :D måste vara ett jävla geni som gjorde det :')
jajaa.. hahahahha själv tkr jag inte bamse är så snygg men tyck vad du vill.
hahah.. nej byt 6an i slutet mot en 7a ;) loooveee uuu ♥
hahahaha (hanna röst)
---
LOUIS VUITTON VÅR
'Glansiga mörka läppar och snedlugg hos Louis Vuitton.'
'Glammig makeup på Louis Vuitton vårvisning, både ögon och läppar framhävs med starka färger utan att ta över för mycket vilket skapar en lagom sexig lite vintageinspirerande look. Den blankborstade snedluggen och de glossiga bourgognefärgade läpparna kommer vi garanterat att se mer utav i vår! '
---
Vår-läppar
'Tjuvstarta våren med en ny färg på läpparna.'
'Vårens läppar ska målas i klara färger som hallon, korall och puderrosa, snyggaste läppstiftet kommer från YSL och är krämigt återfuktande med lagom mycket pigment. YSL Rouge Pur Couture vårkollektion finns i sex olika nyanser och kostar ca 285kr/st.'
---
hahahahhahahahhahah
hahahah felix tönt
---
svar
men åååhh , blev livet jobbigt nu? nej jag hittade en justin blogg jag tar bilderna ifrån
skriv namn, jag ser lixom IP vem det är ändå
---
såjävlasöt
omg kolla henne, så sööööt. och Justin är också så jävla gullig ♥ jag dööööörrr
---
17.17
17.17 - make a wish ♥
---
17.10.01
---
Onsdag
Efter skolan drog jag och Sandra till Sickla för att köpa dom där 'kakorna' som skulle vara som om man åt mat.. fast skit nyttiga, haha man blev mätt men jag mår sjukt illa och har ont i huvudet, fyfan..
---
NSN - Lila mattan i L.A
---
42 dagar kvar
---
Hahaha omg
Hahahhahahahahah fan va rolig :D
---
Ha-Ha-haaaha
hahhahahah så dålig humor jag och Hanna har, gosh :') (btw läs rubriken med Hanna-röst ;) )
---
43 dagar kvar
bara 43 dagar kvar till #NEVERSAYNEVER3D :)
---
Tisdag
plugg plugg plugg, hatar spanska, pluggar det nu, kill me. men iaf .. gillar
twitter bättre så haha skit i spanska nu.. måste duscha också, hörs senare ♥
---
Hihi..
Stämmer ganska bra.. haha .. ;O ♥
---
20.35
---
Nytt nummer
---
fyyyfaaaann
jag har damp fucking damp. Har inte kunnat ringa, smsa eller svara på hela dagen och felix bytte mobil och bytte nummber men istället tog dom bort mitt man ba FUCK så nu har jag nytt nummer.. och jag kommer inte in på mobilen för felix vet inte pin koden så nu måste jag ha puk kod, seriöst jag dööööööööööör.
---
Ohgosh
Jag tror att dom är tillsammans.. lixom ooommmbb kolla bilderna.. han håller hennes jacka dom är typ 2 cm ifrån varandra, dom håller händerna osv. och ja dom är jävligt söta men dom ska säga sanningen inte ljuga haha.. ♥
---
8/2-11
Ja, det var jag och Hanna.. hanna var gästbloggaren.. haha. Vi råkade dampa lite ... haha fyfan :'D
Iaf vi drog hem till mig efter skolan och åt kakor, satt med datorn, lyssna på musik och snackade om Justin såklart.. hade jävligt kul.. älskar hanna mest mest mets mest mest mest mest mest ♥
---
svar på tal
Ha Ha Ha .. lalallalalla HAHAHHAHAHAH
---
HEAL THE WORLD
om ni små underbara prinsar tror att jag blir facerapad... men nej jag och den hemliga gästbloggaren uppdaterar min blogg bara.. HA HA HAAAA HHAHHHHAAHHAHAHAHHAHAHHAHAHHAHAHHAHAHHAHAHHAHAH
/ Linn & den hemliga gästbloggaren
---
fuckyeah
HAHAHAHAAHAHAHAHAHAHHAHAHAHHAHAHAHAHAHHAHAHAHHHAHHAHAHAHHAHAHHAHAAHHAAHAHHAHAHAHAH
---
.
HAHAHAHAAHAHAHAHAHAHHAHAHAHHAHAHAHAHAHHAHAHAHHHAHHAHAHAHHAHAHHAHAAHHAAHAHHAHAHAHAHAH
HAHAHAHAAHAHAHAHAHAHHAHAHAHHAHAHAHAHAHHAHAHAHHHAHHAHAHAHHAHAHHAHAAHHAAHAHHAHAHA
HAHAHAHAAHAHAHAHAHAHHAHAHAHHAHAHAHAHAHHAHAHAHHHAHHAHAHAHHAHAHHAHAAHHAAHAHHAHAHAHAH

HAHAHAHAAHAHAHAHAHAHHAHAHAHHAHAHAHAHAHHAHAHAHHHAHHAHAHAHHAHAHHAHAAHHAAHAHHAHAHAHAH

HAHAHAHAAHAHAHAHAHAHHAHAHAHHAHAHAHAHAHHAHAHAHHHAHHAHAHAHHAHAHHAHAAHHAAHAHHAHAHAHAH

HAHAHAHAAHAHAHAHAHAHHAHAHAHHAHAHAHAHAHHAHAHAHHHAHHAHAHAHHAHAHHAHAAHHAAHAHHAHAHAHAH

HAHAHAHAAHAHAHAHAHAHHAHAHAHHAHAHAHAHAHHAHAHAHHHAHHAHAHAHHAHAHHAHAAHHAAHAHHAHAHAHAH
---
yeahman
jag vill gifta mig med ditt skosnöre. yeah man.
---
Pozdrav
Pozdrav
svim
kako
si
?????
postoji
bijeli
dječak
iz
Kanade
, koji
je
tako
zgodan
!
---
- cucumber -
- cucumber
- är det gurka?
---
... .. ... .. . ......
the magic taste of swedish girls.... bara jag och den hemlige gästbloggaren som fattar) ... ha haaah ahhaaahhhh...
---